GRAMMAR, CONVERSATION, TRAVEL, FLUENCE, BUSINESS, CITIZENSHIP PROCESS
Native teacher gives Italian classes online
Would you like to assess your language skills with a short Italian test? Then try our online test now! On the dedicated page you will find 3 tests: basic, intermediate, advanced, each with 10 questions. Then you will have Immediately the results, and you can check your possible wrong answers. Good luck! New quizzes also!
Book a free 30-minute trial class to see how the classes will be!
Before starting classes, we will have a Skype or Zoom conversation, so you can understand how it works: we will also verify your connection, your level of knowledge of Italian and check the best schedule. For more information, have a look at the link below or just contact us to book your trial class!
There are no miracles. Unfortunately, becoming fluent in another language takes time and dedication. Several factors must be considered: number of classes per week, frequency, extra-class activities (watching a movie, listening to music/radio, lectures) homework delivery. Ultimately, the more committed you are, the faster you will reach your goals.
CHI SONO
Buongiorno!
My name is Valeria, I grow up in Milan and graduated in Economics and Marketing at the Bocconi University.
I am a teacher at the Istituto Italiano di Cultura, but I also teach online Italian language, conversation and culture classes for all levels: basic, intermediate, advanced and also business Italian for professionals.
The dynamics of the classes varies according to the student's level. Please have a look here in the site and any more information you may need, please do not hesitate to contact us.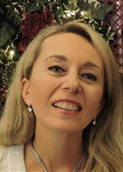 WORLDWIDE Events related to Italian culture
Valeria professora
Fell free to contact us for any information about online Italian lessons. You can use email, skype, Instagram or via the dedicated form. Please visit the ✉ contact page